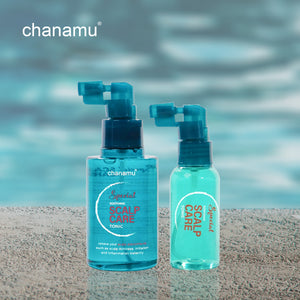 PROMOTES HEALTHY HAIR GROWTH
CHANAMU
𝗘𝘀𝘀𝗲𝗻𝘁𝗶𝗮𝗹 𝗢𝗶𝗹 Aromatherapy
Especially good for skin. Combine Plant-Based Stem Cell Serum and Essential Oil together in a 2:1 ratio and easily brightens up your skin tone. Safe for all skin types.
Shop
Chanamu
Plant-Based Stem Cell Serum
Restore damage from free radicals and environmental damage. Cleanses the scalp and replenishes moisture and nutrients.
Shop
★★★★★

Item well received.

Been using this shampoo.
Happy to find a supplier here.

wct06011983

CHANAMU TEA TREE HAIR SHAMPOO – 400ML
★★★★★

Leaves my scalp clean and refreshing.

udiputs

OLIVETTA HAIR SHAMPOO(HAIR LOSS) – 400ML
★★★★★

Fast delivery and product works.
My scalp itch issue is better.

Shemmy

CHANAMU SCALP CARE TONIC – 50ML
★★★★★

Excellent customer service and prompt next day delivery! 15% discount for buying 2 is cheaper than salon. Best effective leave in treatment I have ever used my whole life! Tea-tree refreshing fragrance with water based cream make your hair super healthy, smooth & silky without greasiness!

Esther

CHANAMU LEAVE-IN HAIR TREATMENT(S OR C) – TYPE S 125ML
Hair care routine can be really easy and simple if you use the right product
Many times we often neglect our haircare, thinking it does not really matter. However, it is also just as important as skincare which will affect us in later part of our life. So start your haircare journey with us to have a healthy hair and scalp.